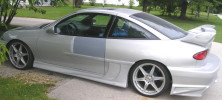 This Cavalier is owned by the same owner I painted the Kelly green cavalier for on my gallery page. I shaved the handles and sprayed epoxy primer. Now its back, getting some minor bodywork and dents filled, and will get a complete paint job in the factory color.

Bodywork was mainly shaving handles, dent removal and some work on rear bumper gap then blocking out the primer. Once bodywork was done, everything was primed with epoxy primer to seal everything up and get all one color for base. Then the epoxy was sanded smooth.





Then everything was painted with basecoat clearcoat in the factory color, and the carbon fiber hood was cleared. Pro-Spray basecoat and Southern Polyurethanes universal clearcoat. After paint everything was colorsanded and buffed. The customer bought a different front bumper and it didn't get painted with the car, the old bumper I didn't paint is in the pics and was thrown on so he could drive the car..